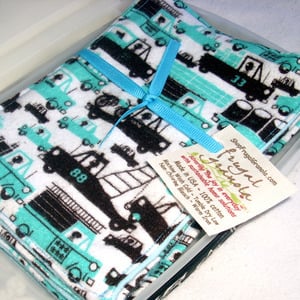 $

8.00 - On Sale
Double-sided cloth wipes, perfect for wiping little noses or bums!
Cloth wipes are a sustainable alternative to disposables, and a frugal alternative to boxes of tissues.
This set of six wipes (approximately 6"x4") features a fun print flannel fabric on one side, and light blue or chocolate brown flannel on the other (your choice).
Smaller than our regular baby wipes, they stack to fit neatly in a typical travel wipes container (not included) without folding (so you can carry more!).
These small size wipes are perfect for cleaning little ones' sticky hands & faces in restaurants, on picnics, or road trips, as well as quick diaper changes on-the-go.
Pack them wet or dry (either moisten with water or your favorite homemade wipes solution).
Pamper those little noses during a bout of the the flu and make diaper changes a bit more pleasant for your wee one.
Cloth wipes also make potty training a bit tidier, since toddlers aren't quite proficient in toilet paper usage!
(Note- New mamas have reported using these wipes for themselves as well during that sensitive "postpartum mama" stage instead of that rough toilet paper!)
Click the photos to zoom in for a larger view.
Perfect for tucking into a baby shower gift or stocking your own nursery supply stash! Each order comes tied with a coordinating ribbon & Frugal Granola's signature unbleached, raw edge tag, and wrapped in a handmade recycled paper envelope- presented to you as a joyful gift.
100% Cotton
Wash with Cloth Diapers (Hot Wash, Two Cold Rinses) for sanitation, OR Wash Warm with Regular Laundry Tumble Dry Low Non-Chlorine Bleach Warm Iron, if needed